Bobby Allison - NASCAR Inactive - GoNascarGo.com
Bobby Allison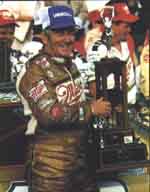 BOBBY ALLISON
Bobby Allison was born in Miami, Florida in 1937. He was bitten by the racing bug as a high school senior in 1955, when he convinced his mother to sign a waiver letting him race in the newly created Amateur Division at the Hialeah Speedway. He took a seventh place finish out of 40 drivers. In 1959, Bobby, brother Donnie, and Red Farmer, known as the Alabama Gang, headed to Alabama for racing.
The 1966 Winston Cup season gave Bobby his first NASCAR win at Oxford Plains Speedway. He had two more wins that season and in 1967, he doubled his wins for a season total of six. During the next three seasons he took the checkered flag ten times and was Winston Cup Champion runner up in 1970, placing behind Bobby Isaac by 51 points.
Bobby Allison's 1971, season was nothing short of remarkable. He had ten wins, five of which were back to back, and won the Most Popular Driver Award for the first time. He went on to win 10 races in 1972, but was beaten in the points race by Richard Petty for the Winston Cup Championship title. Once again he was voted Most Popular Driver and also earned the Olsonite Driver of the Year Award. 1973, brought Allison only two wins but he won the Most Popular Driver Award for the third year in a row.
From 1974 to 1980, Bobby Allison had 19 wins, winning his first of three Daytona 500's in 1978. He was the IROC Champion in 1980.
The early 80's were good for Allison, with 19 wins from '81 to '83. In 1981 he finished second at Daytona and took the checkered flag in 1982. He was Winston Cup Champion runner up with Darrell Waltrip beating him by 53 points and 72 points in '81 and '82. He was voted NASCAR's Most Popular Driver all three seasons and in 1983 was once again given the Olsonite Driver of the Year Award.
Bobby Allison's career wins total 85, 84 of which were counted by NASCAR, placing him in a tie for third place on the all-time win list. He received the NASCAR Award of Excellence in 1989 and was named one of NASCAR's 50 Greatest Drivers in 1998.
Bobby Allison and Sons
Bobby Allison was not just a driver he was also a father that tragically lost both of his sons in the early '90s. In 1992, Clifford, Bobby's youngest son was practicing for the July, Busch Grand National at Michigan Speedway. On turn three, the young Allison crashed head on into the wall. Though rescue workers were on the scene in seconds and Bobby was rushing from the pit area, Clifford Allison died instantly.
Things were looking better for Bobby in 1993. Meineke had become their sponsor and Jimmy Spencer was signed as the driver. The team was in Louden, New Hampshire, for the inaugural Winston Cup Race. Bobby flew back with home with Davey who had gotten his helicopter pilot license just a month earlier. They talked about the future and the goals Davey had for his racing career. It would be the last conversation between father and son. Davey and Red Farmer were heading to Talladega Superspeedway to watch David Bonnett test a car. The helicopter Davey was piloting crashed in the infield and he died shortly after.
Bobby's racing team pressed on but to no avail. In 1997 Bobby Allison realized that securing sponsorship for the season was just not going to happen and the team called it quits ending decades of racing.