Ned Jarrett - NASCAR Inactive - GoNascarGo.com
Ned Jarrett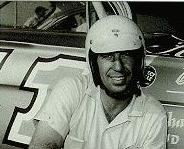 NED JARRETT
"Gentleman" Ned Jarrett is now one of NASCAR's most recognizable voices but in his time, he was a force to be reckoned with.
Jarrett's racing career began in 1952 at Hickory NC under an assumed name. Ned's parents had not wanted him to race but he was allowed to work on the cars. Jarrett's driver had become ill and asked Jarrett to replace him behind the wheel. Jarrett agreed and drove to a second place finish. He continued to race under a different name until he was found out by his father. His father then told him that if he was going to race he should at least use his own name and a racing career was born.
In 1956 he came in second in the Sportsman series and in '57 and '58 he took home the Championship and had his sights set on the Grand National by 1959. Writing a $2,000 check Jarrett bought a used Ford from Junior Johnson. He competed in two races, won them both and had enough to cover the check for the car.
Ned Jarrett won five races in 1960. 1961 saw only one win for Jarrett but with 22 top-five finishes in 46 starts, he earned enough points to become the Grand National Champion for the first time.
Jarrett Joins with Bobby Long
In 1964 Ned Jarrett started driving Fords for Bobby Long. He won his first superspeedway race in Atlanta and came in second that season behind Richard Petty in overall points.
1965 was a super season for Ned Jarrett. He started 54 races and had 42 top-five finishes, including 13 wins. He won the Southern 500 at Darlington. He ended his season as Winston Cup Champion for the second time.
Jarrett was in the running once again for the championship in 1966 when Ford pulled out of NASCAR due to conflicts with President Bill France. Jarrett chose to retire at age 34, becoming the only driver to retire while still champion. Ned Jarrett ended his driving career with a total of 50 wins placing him 8th on the all-time list. He has been inducted into eight Hall of Fames and is on NASCAR's 50 Greatest Drivers list.
Ned Jarrett's influence in racing didn't end with his retirement. He hosts a radio show and is a familiar NASCAR commentator. His son Glen raced stock cars for a time and daughter Patti represented a big sponsor. His son Dale Jarrett currently drives the UPS Ford in the Nextel Cup Series.