Richard Petty - NASCAR Inactive - GoNascarGo.com
Richard Petty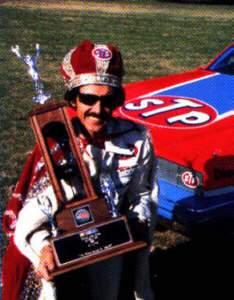 RICHARD PETTY
Born on July 2, 1937 in Randleman, NC, Richard Lee Petty was the son of one of the early pioneers in racing. Lee Petty, the winner of three Grand National Championships in the 1950's, was also the record holder for the most victories, 54, until it was broken by his son.
His father refused to let him race until he had turned 21 so Richard worked as a mechanic for his father. Days after his 21st birthday he finished in sixth place in his first race but failed to finish in any of his next eight starts.
Petty's first victory was taken away when another driver on the track protested. As Petty was heading toward victory lane the other driver claimed the checkered flag was waved on the wrong lap. The driver who had protested Petty's win was given the victory, that driver was Lee Petty.
Richard Petty watched from the pits with a blown up engine in the 1959 inaugural running of the Daytona 500 as his father claimed the checkered flag. The following year, 1960, Richard finished second to Rex White in the points race and claimed the Rookie of the Year Award.
With Petty placing second in points in 1962 it was obvious he was poised to make it big and all he needed was the equipment. In March of 1963, after a sixth place finish at Daytona behind 5 Fords, Chrysler made a decision that would not only change Richard Petty's world but the entire world of racing. On February 4, 1964 Chrysler delivered the newly developed 426 Hemi engine to Richard Petty at Daytona, just weeks before the running of the Daytona 500. On February 23, Petty took the checkered flag at Daytona with second and third place finishes going to Jimmy Pardue and Paul Goldsmith. Plymouth had placed first, second, and third with the new Hemi engine. Petty went on to win the Grand National Championship that year but what happened prior to the last race of the season was unprecedented. Bill France declared that the Hemi engine would be illegal for the 1965 season. Ten days later Chrysler announced a boycott against NASCAR.
Under contract with Chrysler, Richard Petty was compelled to observe the boycott so Petty started the 1965 season drag racing. He took his trademark Petty Blue Plymouth named, to no one's surprise, "Outlawed" to many victories. However his season was marred by the death of an eight year boy during a crash in Georgia.
Richard Petty Returns to NASCAR
In late July of 1965 France relented under financial pressure. Chrysler and Petty were back in NASCAR. In the 1966 season Richard Petty won the Daytona 500, becoming the first driver to win it twice. In 1967 he had 10 wins in a row and won 27 of 48 starts and finished in the top 5 of eleven other races, leading him to his second Grand National Championship.
In his eighth season Petty passed his father's win record of 54. Petty's only real competition was David Pearson. Petty and Pearson finished one-two a total of 63 times between 1963 and 1977 with Pearson beating Petty 33-30.
Petty had four Daytona 500 wins and five Winston Cup championships in the 1970's. In 1976, seeking his fifth Daytona win, he made contact with Pearson on the last lap and Pearson went on the checkered flag.
The racing tradition continues in the Petty family with Richard's son Kyle. Although Kyle lost his son Adam in 2000 to a crash the Petty's will be a presence for years to come.